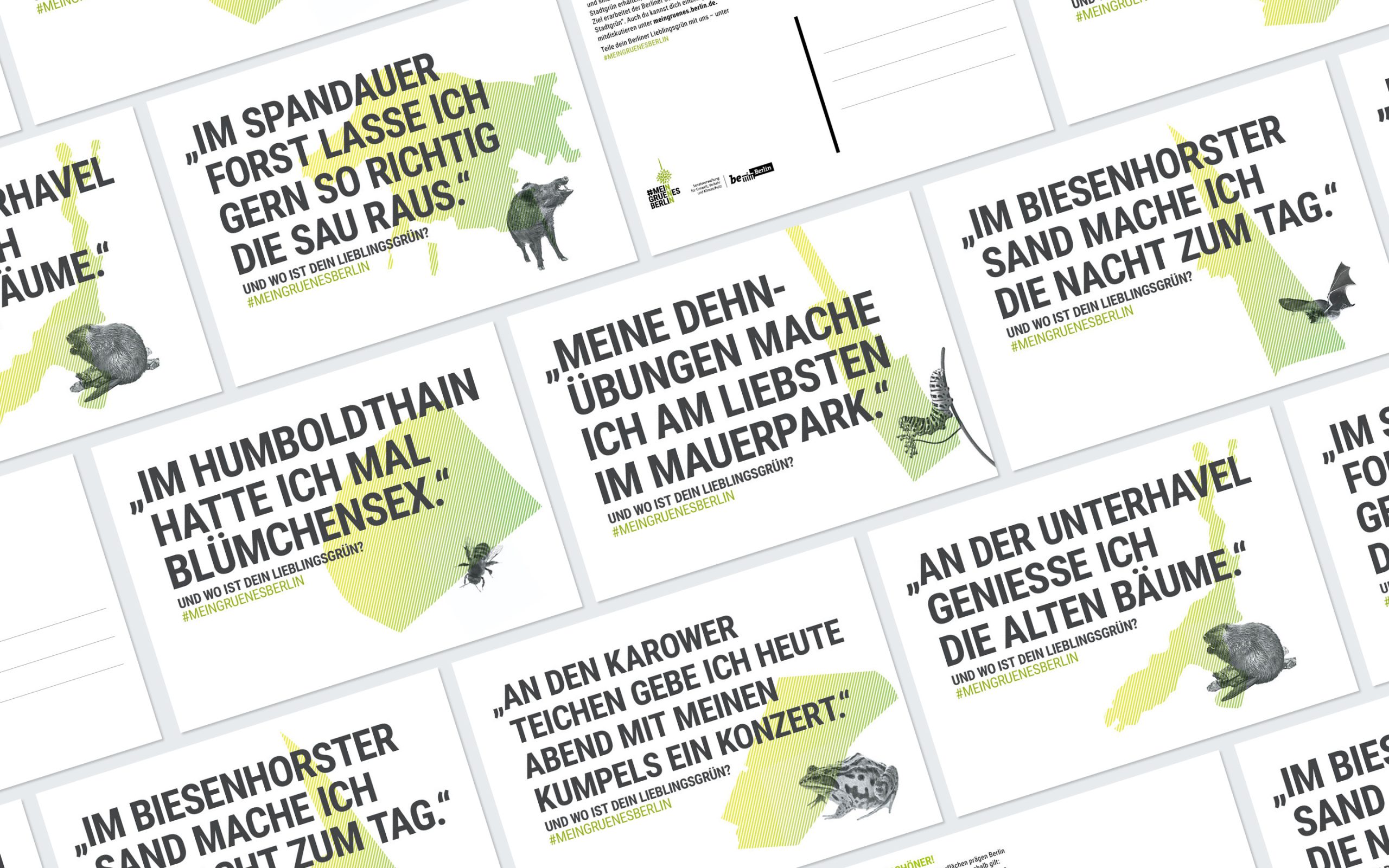 Hashtag campaign
#meingruenesberlin
///////////
for
Senatsverwaltung für Umwelt, Verkehr und Klimaschutz Berlin
project
#MEINGRUENESBERLIN ist eine Hashtag-Kampagne zur Bewusstseinsbildung zum Schutze des Berliner Stadtgrüns, verfasst in Leitlinien einer Charta für uns Menschen, wildlebende Tiere und der Natur.
work
Logo Design // Color Coding // Campaign Design Team // Art Direktion // Satz und Layout // Ad Design // Out of Home Design // Word Templates // Postkarten // Flyer // Illustrationen // Pre- und Post Produktion // Art Direktion
challenges
Diese Hashtag Kampagne gestalteten wir während der Sommermonate, daher mussten wir mit ständig wechselnden Verantwortlichkeiten im Designteam umzugehen lernen. Unsere Deadlines waren kurz bemessen, so brauchte es ein hohes Maß in der Entscheidungsfindung, um alles zur gewünschten Zeit zu finalisieren. Dieses Projekt hat mir besonders gezeigt, wenn man zusammen an einer Sache arbeitet, kann man alles erreichen.
///////////
Corporate
campaigning oder branding is the shit?
… du hast ein Event und möchtest, dass alles wie aus einem Guss aussieht? Super, dann bist du bei mir genau an der richtigen Adresse, denn das ist was ich am liebsten tue mit meinen Kunden-innen ein Gesamtkonzept entwickeln, sodass dich deine Kunden auf allen Kanälen wieder erkennen und es sich in ihren Köpfen fest brennt, dass sie dich brauchen! Buche gleich dein …